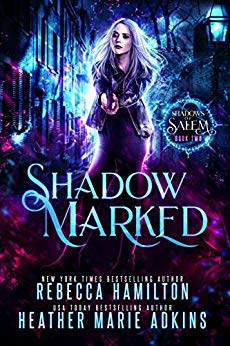 In the Shadows of Salem, there are no good guys.
For years, Detective Brooke Chandler has been deliberately shielded from the supernatural world. But now that the supernaturals know about her, there's no line they won't cross to harness her powers for their own wicked needs.
To stay alive, Brooke needs to learn what it means to be a Shadow. Unfortunately, the one person willing to help her may be just as guilty of using her unique skills for his own gain as the people she is trying to escape.
Her training comes at a price: helping a fae lord find several dangerous artifacts and shadowing them from his enemies. But the more she uses her abilities, the deeper she becomes embroiled in the cutthroat societies closing in on her. Soon, Brooke finds herself hemmed into a corner, condemned to make an impossible choice that might destroy the human world as she knows it.
About the Book
Continue the SHADOWS OF SALEM series today with SHADOW MARKED, sequel to the New York Times bestselling urban fantasy hit, Shadow Born!
Other Books in "Shadows Of Salem Series"
Disclosure of Material Connection: Some of the links in the page above are "affiliate links." This means if you click on the link and purchase the item, I will receive an affiliate commission. I am disclosing this in accordance with the Federal Trade Commission's
16 CFR, Part 255
: "Guides Concerning the Use of Endorsements and Testimonials in Advertising."